Amazon's Echo is getting a touchscreen. The online retailer introduced the Echo Show on Tuesday, and it looks exactly like the images that popped up online last week.
The $230 Echo Show features a 7-inch touchscreen and dual 2-inch stereo speakers. It can do everything that an Alexa-powered device can do right now, including access third-party skills, tell you the forecast, set a timer, and play music.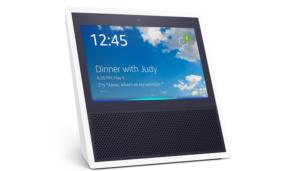 On top of that it's added some screen-centric tricks, such as voice and video calls and the ability to broadcast images from Ring and Arlo cameras around the home. It also hooks into other smart home devices, such as WeMo and Ecobee thermostats, and Philips Hue light bulbs.
To read this article in full or to leave a comment, please click here